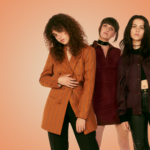 There's a few bad things I've done...
I guess you have that something that I didn't think I was even searching for.
These lungs had smoke before they took a breath.
"Women and female identifying people have it really tough being properly represented in any industry, especially the music...
"It is so important as a woman to have opinions and to stand for something"
"I've allowed myself over the last few years to evolve into the woman and artist that I am."
Don't give up, don't give in.
These is red bottoms, these is blurrrdy shoes.
We talk about listening to Kylie Minogue on the way to school, creating album art on an iPhone...
I love to perform, and you love to watch me do it.
She knows where she has to be, down on the west side with the beauty queens.
Back to Top