I'm sorry, the old Taylor can't come to the phone right now.
A truly incredible chat about addiction, being independent and fabulous female artists with a defiant, strong-willed musician.
We speak about the music therapist's debut single "Clouds" plus the effects of music on our mental health.
Am I doin' enough? Feel like I'm wastin' time.
You say you can't live without me, so why aren't you dead yet?
I'm crying while I'm cummin'.
The duo discuss their upcoming EP Long Live and the safe space they're creating with their anthem rock...
The singer DRAGS the music industry and talks with me about pissing off the Alt Right.
Secretly you love it… you fucking love it!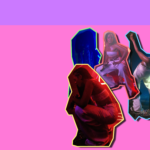 "They slept on the rise up" never resounded as pertinently as it did that night.
You won't be the pickup, I put you down.
Back to Top