Where are you, are you getting messed up again?
Come on closerrrr OOHOOHOOH!
Go ahead and play with another, not me - I'm done...
Is it a yes or is it no? AWOO!
Pronašli smo ljubav u beznadnom mjestu!
Another week, another batch of fresh and hot new bops. First up is the hotly anticipated English version...
Pause Dangerous Woman for a hot 3 minutes and get listening to some real dangerous women, sistrens! "Amnesia"...
Finally! The underrated queen of Europop, Adelén, just dropped her latest banger. "Wild Like Me" is a plucky...
The original queen of sax-pop, Alexandra Stan, is back! ALESTA is the Romanian diva's third album, and it...
International Women's Day 2016 is here, and what better way to celebrate than with some empowering sheBOPS!...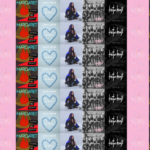 February is almost over sistrens. How quickly is 2016 going? It must be the continuous slayage from pop...
Last week was a bit of a quiet one for my iTunes. I fleshed out the week's sparse...
Back to Top