Keep runnin', Beyoncé! British singer MALKA is gunning for the title of Queen Bee with her new video...
Still wondering if we really did go to the moon? Well, wonder no more. Soul songstress Corinne Bailey...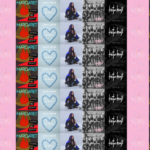 February is almost over sistrens. How quickly is 2016 going? It must be the continuous slayage from pop...
Last week was a bit of a quiet one for my iTunes. I fleshed out the week's sparse...
What are this week's best bops?
Woo lawd, what a Wednesday it's been! Honestly, I need to catch my breath because it's been a...
What are this week's new bops? Find out here!
How does a night partying with Katy B sound? Lots of fun, I know. Well now you can!...
Two of 2015's best newcomers and certified stars for 2016, Mabel and Dua Lipa, made an incredible start...
Hopefully your faves got extra strong wig glue for Christmas, because X Factor contestant (and Malvern's biggest export...
What happened to these pop girls?
Back to Top