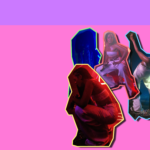 "They slept on the rise up" never resounded as pertinently as it did that night.
I didn't change - I became.
The one and only Dawn Richard has finally unveiled the details of her insanely anticipated album Redemption and...
It only takes one glance at this blog to notice that I stan Dawn Richard to the high...
Another day, another D∆WN! Listen to "Wake Up", the next single from Redemption, now.
Everyone's favorite indie artist, D∆WN, has dropped another masterpiece. "Honest" is a mellow one, completely different to "Not...
Cardboard headsets at the ready, Hearts!
Last week was a bit of a quiet one for my iTunes. I fleshed out the week's sparse...
Ethereal goddess and musical genius Dawn Richard has just unveiled the lyric video for her new single, "Not...
What are this week's best bops?
Prepare yourselves sistrens – D∆WN's RED era is coming! The artist formally known as Dawn Richard announced today...
Need help understanding the best albums of 2015? Don't worry, help is here.
Back to Top