International Women's Day 2016 is here, and what better way to celebrate than with some empowering sheBOPS!...
Keep runnin', Beyoncé! British singer MALKA is gunning for the title of Queen Bee with her new video...
Still wondering if we really did go to the moon? Well, wonder no more. Soul songstress Corinne Bailey...
It has come to my attention that noted producer Timbaland recently professed that Selena Gomez is "gonna be...
Browsing Amazon yesterday, I was alerted to the fact that they were selling the Bible of pop music,...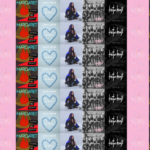 February is almost over sistrens. How quickly is 2016 going? It must be the continuous slayage from pop...
Rihanna is continuing her mission to revolutionize pop music forever by Rihleasing a 2in1, back-to-back epic video event...
Last week was a bit of a quiet one for my iTunes. I fleshed out the week's sparse...
Japanese electro queens Perfume have finally revealed the details of their next album! COSMIC EXPLORER is dropping on...
Ethereal goddess and musical genius Dawn Richard has just unveiled the lyric video for her new single, "Not...
Finally! Legendary entertainer, Gwen Stefani, is making her long overdue comeback this year! The album, This Is What...
Following an epic appearance at the Super Bowl, Queen Bey has announced that she will be embarking on...
Back to Top